Did you know there are more than 700,000 hotels and resorts in the world – including nearly 100,000 hotels and motels in the United States alone? The hotel industry is thriving and, while the COVID-19 pandemic didn't help much, the industry is worth more than $570 billion today.
Not only that, but the hotel industry employs over 173 million people around the world with more than 100,000 businesses inside. It's part of a much larger travel industry that's worth more than $1.6 trillion worldwide – meaning the hotel industry is in good hands and will continue to thrive.
In a competitive market, such as the hotel industry, property owners need to do whatever it takes to gain an edge over competition. While there are various effective ways of doing so, one of the most necessary is by providing your wonderful guests with valuable hotel amenities.
What is a Hotel Amenity?
A hotel amenity is any desirable, additional, exclusive, or wanted feature that separates one hotel room from another. Amenities play a significant role in the success of many hotels, motels, gyms, resorts, and residential communities. Without them, guests would be difficult to come by.
When you look at the current landscape of the hotel industry, it's clear that guests hold high expectations when renting a room. Whether it's for one night or two weeks, guests want to know their individual needs and desires are being accounted for during their stay – if not, they'll leave.
If you want to establish your property as a leader in the hotel industry, you have to give your customers the best possible experience – one that can't be duplicated elsewhere. With the right hotel amenities, you can turn that into a reality. Before you know it, business will be booming.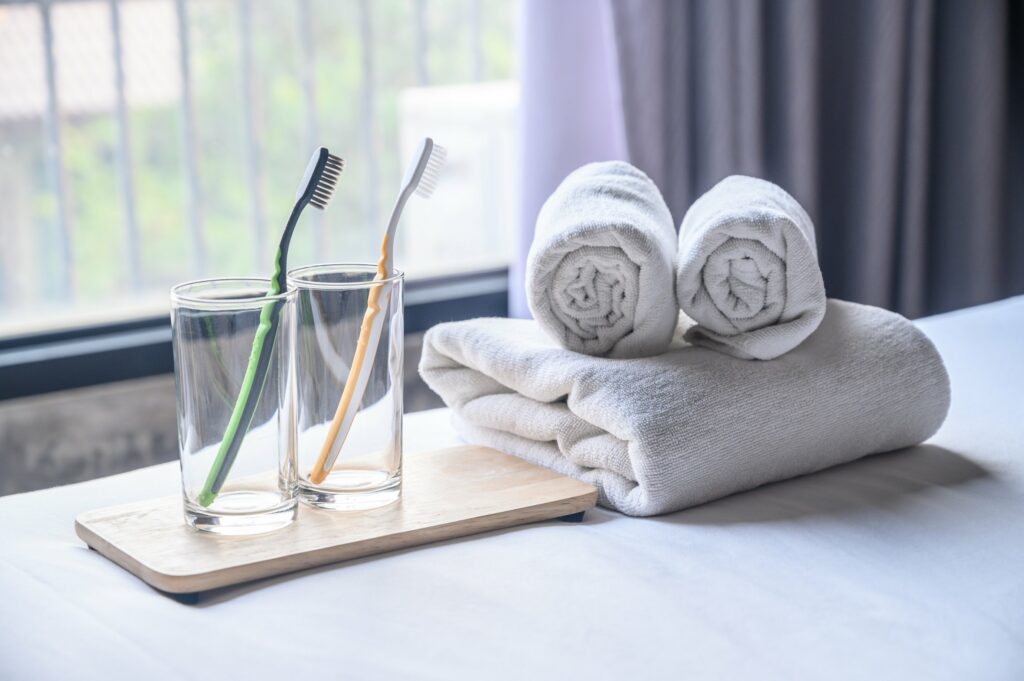 Popular Examples of a Hotel Amenity
Offering amenities can be the difference between full occupancy and empty rooms. The truth is there are a wide range of different amenities you can offer at your hotel, but they can generally be categorized into three categories – in-room, out-of-room, and off-property amenities.
Let's first take a look at some of the most common in-room amenities:
Kitchenette (refrigerator, sink, microwave, stove, storage)
Coffeemaker
Hotel rooms with a television and cable
Free Wi-Fi and internet access
Washer and dryer
Toiletries (body wash, conditioner, shampoo, hair dryer)
Ironing board
Towels
Pet-friendly guest rooms
Now, let's take a look at some of the most common out-of-room hotel amenities:
Complimentary breakfast buffet
Room service
Vending machines
Fitness center
Pool and jacuzzi
Sports (golf course, basketball courts, tennis courts, etc.)
Guest parking with easy access
Pet-friendly areas
Lastly, let's take a look at some of the most common off-property amenities:
Discounts to local restaurants and dining
Discounts to nearby entertainment
Transportation and shuttle buses
When determining the right amenities for your hotel, don't be scared to get creative and think outside the box – those are usually where the best ideas live. After all, you want to 'wow' your guests and prove your hotel is different from the others, right? Well, this is an effective way.
Benefits of Offering Hotel Amenities
Like we mentioned above, hotel guests expect the most and if you want a quality review, then you need to deliver a memorable experience. This might seem like a difficult task to achieve, especially with all the competition out there, but that's where amenities come into play.
Let's take a look at some of the most prominent benefits of offering essential hotel amenities to luxury hotel guests:
Establish yourself as a leader in your industry
Show the guests that you care about them
Improve the overall experience for the guests
Receive more glowing reviews and testimonials
Incentivize people to book a room and likely return again
Provide a more comfortable and luxurious stay
Make your guests feel more at home
You'd be surprised by what a simple hotel amenity can do to guest morale. If you want to improve retention and word-of-mouth marketing, then you need to blow your guests away. Your goal should be to give your guests everything they need and want, but nothing they don't.
Catering Your Amenities to Your Guests
While most people believe more is better, that's not always the case when determining which hotel amenities to offer your guests. You have to consider who your guests are and why they're visiting your hotel. Only then will you understand what it is your guests want, need, and desire.
Let's take a look at some of the most common types of guests you're likely to come across:
Business Travelers – these travelers usually rely on free internet, a work station, printers and fax machines, ironing boards, coffee maker, breakfast buffets, and bar discounts.
Short-Stay Guests – these guests usually want a swimming pool, air conditioning and heating, free internet, parking, quick check-ins, and quick check-outs.
Long-Stay Guests – these guests usually want a washer and dryer, a kitchenette, free breakfast, television, cable, free internet, free parking, and a swimming pool.
Families & Groups – these travelers usually want lots of dining options, free wifi, plenty of entertainment, family packages, sport activities, toys or games, and swimming pools.
Lovers & Couples – these couples usually want private dining, room services, a spa, swimming pool, cabana, entertainment for couples, and a couples suite.
When you have a deep understanding of who your typical guests are, then you can better attract those individuals to your hotel. And while adding some valuable hotel amenities is a great start, it's just the beginning of what you can do to improve room occupancy rates in your hotel.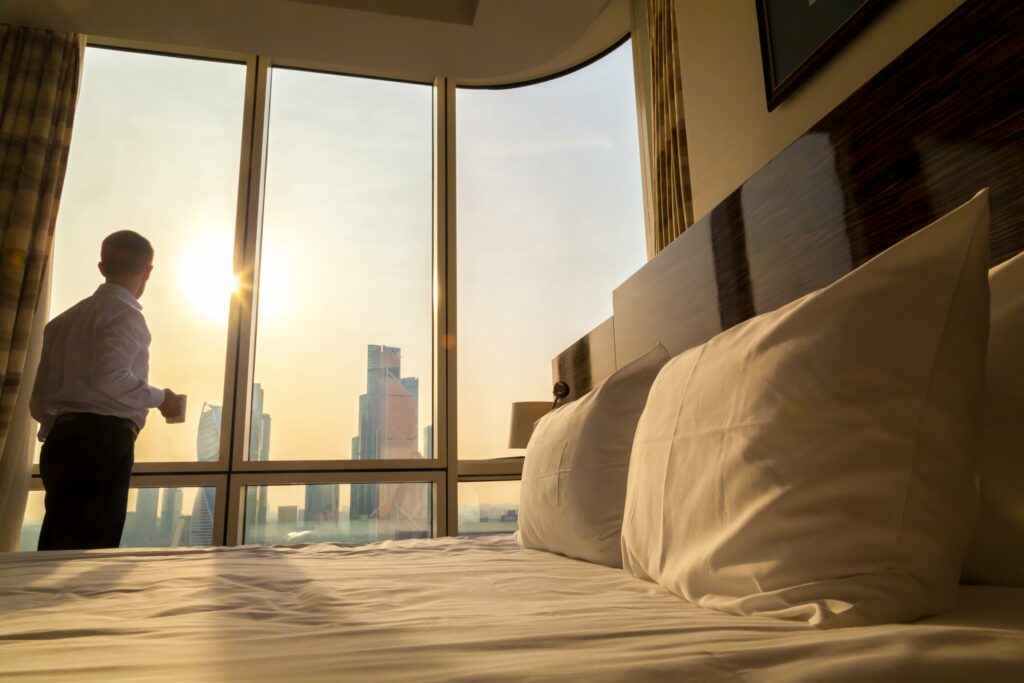 How Can Community Amenity Management Help?
Are you interested in enhancing the guest experience in your hotel? Do you believe your current amenities aren't producing the results you desire? Are you trying to figure out which amenities your hotel will benefit from? If you've answered 'yes' to any of these questions, then contact us!
At Community Amenity Management, we help property owners and developers get the most out of their investment. We take the time to understand your guest's wants and needs to ensure they're getting the most bang for their buck. Together, we can give them an experience they deserve.